The draw for the group stages of the Champions League will be made later this week. Depending on the result of the PAOK Benfica playoff tie on Wednesday night, Liverpool will either be in Pot 2 or Pot 3 for the draw. If the Greek side win, which seems a real possibility given their record at home and the away goal they have, the Reds will go into Pot 2 (which already has two Premier League sides in it in the form of Man Utd and Tottenham). If the Portuguese giants win, LFC will be in Pot 3.
If Liverpool are in Pot 3, they could have a tough draw- one of the traditional giants from Pot 1, plus one of Dortmund/Napoli/Roma/Shakhtar/Porto, all potentially tricky opposition, will be in their group. Being in Pot 2 seems preferable, but lest we forget, Liverpool were in Pot 3 during last season's dream run to the final, and got an easy draw in the form of Sevilla, CSKA and Maribor.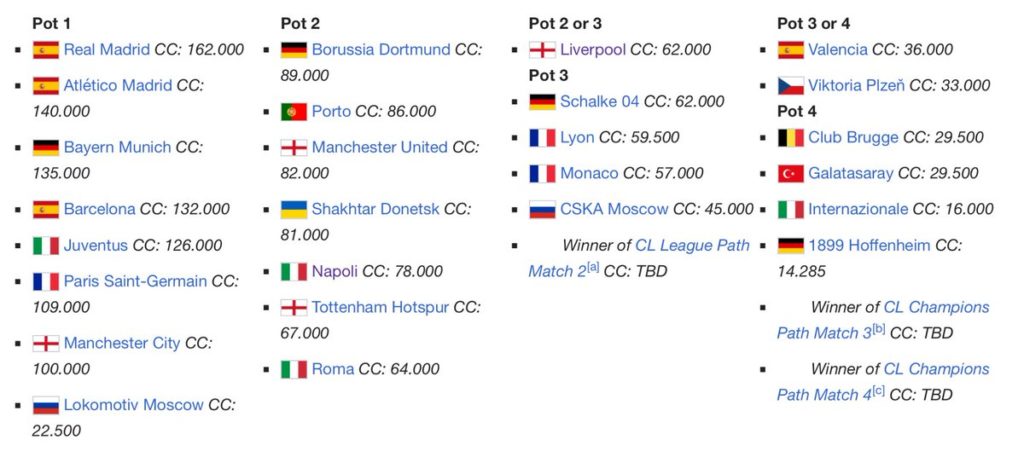 Whom could Liverpool draw from Pot 1?
Pot 1 features Real Madrid, Atletico, Bayern Munich, Barcelona, Juventus, PSG, Man City and Lokomotiv Moscow. Man City cannot be drawn because of the rule that prevents teams from the same association from facing each other in the group stages.
Liverpool drew Spartak from Pot 1 last season, and would probably love an encore if they got Lokomotiv, who are the lowest ranked team in the pot this season
Real Madrid would be great for obvious reasons- would offer LFC an early chance to take revenge for last season's final defeat. Real look a little vulnerable this season without Cristiano Ronaldo, who has easily been their best player for the last decade or so.
Assuming Liverpool are in Pot 2, an "easy draw" would perhaps be Lokomotiv, Liverpool, Monaco, Viktoria Plzen.
A tough draw, assuming they're in Pot 3, could be Real Madrid, Dortmund, Liverpool and Inter Milan.
Speaking of the Champions League, the good folks at Betting.Net have put together a combined XI from the LFC teams of 2005 and 2018. Some choices are bound to fuel debate- for instance, there's no place for the world's most expensive defender in Virgil van Dijk, and the sometimes eccentric Jerzy Dudek has been selected in goal ahead of Alisson. Nevertheless, it's a pretty solid XI, we feel.
The 2005 midfield is seen as more solid than the current one, with the likes of Alonso, Gerrard and Hamann in that side, but the 2018 forwards, probably the best collective trio in world football currently, get the nod ahead of their 2005 counterparts.