This Sunday, all twenty Premier League teams will have played all of their 38 games of the season and will find out their final position in the league table. There isn't much to play for at the top of the league with the title already being secured by Manchester City a few weeks ago, and United confirming second spot with their point away at the London Stadium on Thursday. Spurs' midweek victory over Newcastle and Chelsea's draw at home against Huddersfield means that the Lilywhites are certain to finish in the top four, with the Blues' chances of CL football hinging on a victory for them and a loss for Liverpool at home to Brighton.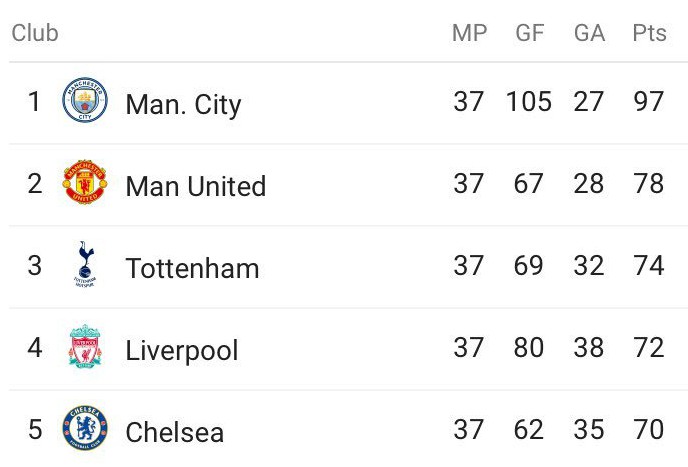 However at the other end of the table, the final relegation spot is yet to be decided. The Premier League odds on Paddy Power suggest that Swansea City are the favourites to join Stoke and West Brom in the Championship, and there is no surprise why they are favourites for the drop. The Welsh side are currently on an eight match winless run and are still 3 points away from safety with only one game remaining. With a woeful goal difference of minus 27, the only scenario for Swansea surviving is winning their game against Stoke and hoping that Southampton fail to pick up a single point against Manchester City and lose by a significant margin in order for their goal difference to be made up. It's however a very unlikely scenario, as the table below tells us.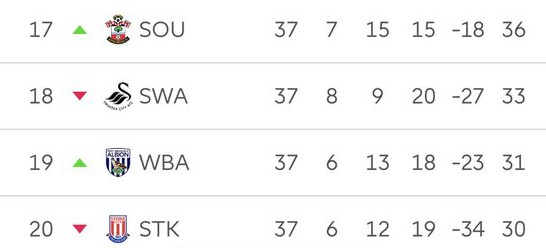 This is however the first time in six years that all three promoted Premier League teams have stayed up (Brighton, Huddersfield and Newcastle). In fact, this is true for all the four professional tiers of English football (upto League 2), which is quite the stat, we must say!
Talking of relegations, who is the most relegated player in modern PL history?
Relegation is always a disappointment to everyone involved with the club as it means at least one season in a lower division than they were originally playing at. Despite being part of a team that is relegated, some players get to remain in the Premier League again by transferring to another club in the league. However, their recent relegation means that they usually sign for clubs which are favourites for relegation again after surviving in the previous season. This means that certain players have experienced multiple relegations from the Premier League with different clubs.
The most relegated Premier League player in history is Nathan Blake. The former forward played for numerous Premier League clubs during his career, but also suffered the agony of relegated five times. His first relegation from the league came in the 1993-94 season when Sheffield United were relegated. His next two relegations would then come at Bolton Wanderers in the 1995-96 and 1997-98 seasons. Remarkably, he would suffer relegation for the second year running when he was part of the Blackburn Rovers team that finished 19th in the league in the 1998-99 season. His final relegation from the Premier League came in the 2003-04 season when Wolverhampton Wanderers finished bottom of the league as the lowest scorers. The only other player which has been relegated as much as Blake is Hermann Hreidarsson. Like Blake, Hreidarsson has also been relegated from the top-flight five times. The defender has also been relegated with every Premier League club he has played for. Hreidarsson first experienced relegation from the Premier League in 1997-98 when Crystal Palace finished bottom of the league. Just two seasons later Hreidarsson would experience relegation once again, this time with Wimbledon. Two more seasons later, Hreiðarsson was relegated yet again, but this time it was with Ipswich. Hreidarsson's unlucky relegation streak would 'halt' for a few seasons, but the defender suffered his fourth relegation in the 2006-07 season with Charlton Athletic. In his final season of Premier League football, Hreidarsson suffered his fifth and final relegation with Portsmouth.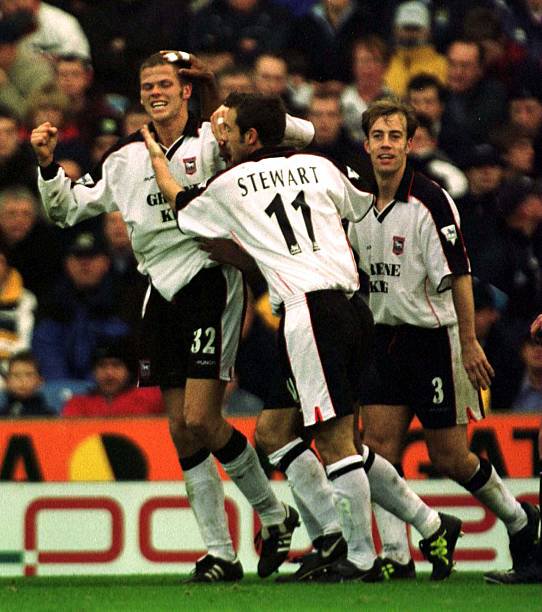 The most relegated player which is currently active is Rob Green. The goalkeeper has been relegated from the Premier League four times in his career. Although he has failed to play a single game this season, Green is still part of the Huddersfield Town squad. Fortunately for the former England international, Huddersfield have managed to avoid relegation which means he won't be joining Blake or Hreidarsson as the most relegated players in Premier League history.
Week 38 key clashes
Liverpool v Brighton
Newcastle v Chelsea
Southampton v Man City
Swansea v Stoke